A love and passion for robotic and the many of its competitions since we were only some savvy and devoted students has inspired us to create robot parts, mainly robot wheels for our fellows who compete every year in these competitions as we did. through years of hard work and with passion and creativity we had as students, we were able to establish a robotic manufacturing company with the focus on producing customizable robot wheels to make shopping robot parts a lot easier.
Hope is what motivates us and we dream of becoming a reliable source for our customers in the state of disappointment when they can't find the wheels they need. the step which was necessary to take to achieve our vision was cooperating and teaming up with many robotic distributors and manufacturers which now proudly became a reality. But this not the end. We always strive to be better and do better. Learn more about us …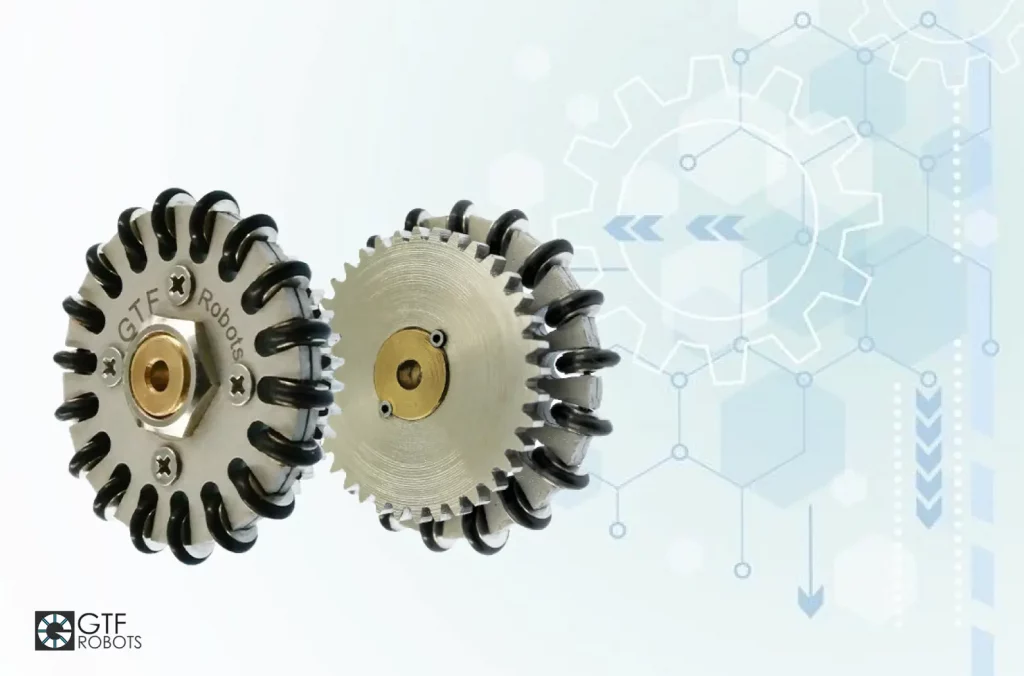 Collection of Omni Directional Wheels
Lasting quality and high performance with GTF Omni wheels.
Our Omni directional wheels come in different diameters from 50mm to 150mm and each of them has different hole sizes which allow you to mount different motor shaft to them. The main part of these robot wheels is made of metal (aluminum) which increases the load capacity and makes them a robust and long lasting option for heavy-duty robots and applications. The rollers are made of rubber mounted on small metal wheels, increasing wheels' traction on the ground and stopping them from slipping. The rubber rollers enable your robots to rotate at 360 degrees meaning they can move freely in any directions effortlessly including forward and backward and horizontal movement. these wheels are customizable and can be produced based on your needs.
New fixed/regular robot wheels
Get rid of wobbling wheels and replace them with stable aluminum robotic wheels.
These wheels have two parts, the rubber tire and the aluminum wheel. The Rubber tire prevent these wheels from wobbling by creating excellent grip and traction on the floor and make these robot wheels ideal for many applications such as RC plane model, rescue robot, line follower robot, Self-Balancing Robot and self-stabilizing hand truck, DIY robot cars and more. The aluminum wheel which is produced utilizing die casting process, is lightweight enough not to increase the weight of your robot drastically, but strong enough to withstand your robot weight. the use of aluminum as the main material has enabled the wheels to not only have high strength but also have high resistance to corrosion. These wheels come in different width and with different hole sizes and can be customized as well.
Shop Aluminum robot wheels
Customize Your Robotic Wheel and Win Any Competitions!
You can customize your robotic wheel according to your requirements and get your own unique wheels.
Mini Ball Casters for Your Robots
Ball casters also called transfer unit are multi-directional robotic wheels used in many robotic and industrial applications such as transport systems, but Our mini ball caster wheels with 360-degree freedom of movement are specifically designed as a third contact point for small wheeled robots mainly used in robotic competitions and DIY projects. These wheels consist of a small ball with different diameters which is fitted into a housing made of steel or brass. The steel or brass housing with high strength secures the ball while allowing them to move freely in any direction without friction against the housing. Each of the housings come with a mounting screw which is used to attach and mount the ball caster to your robot chassis. the steel balls with high resistance can bear the weight of small wheeled robots while keeping the friction low in order to roll smoothly over the floor.
Want to be Our Distributor?
if you're interested in our products, please don't hesitate to contact us. we are looking forward to working with you.
While excessive teeth wear can occur in every gear as a result of excessive load or high speed and high temperature, using high resistance gears can drastically help to postpone the process. our gears which are made of steel and brass have high resistance to abrasion and will last a much longer life than the average plastic gears used in most wheeled robots.
Our range of robotic gears consist of brass pinion gears which are attached to your robot motor and brass and steel spur gears which are attached to the pinion gears. These gears come in variety of pitch diameters and are ideal for small wheeled robots.